Cleo 3 Seater Sofa Bed (floral) — Queen 6 Inch Latex
Cleo 3 Seater Queen 6 Inch Latex Sofa Bed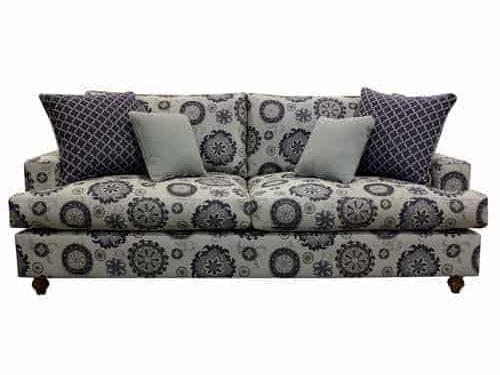 Dressed up or down, the Cleo 3 Seater Sofa Bed is effortlessly stylish. On-trend, yet relaxed and unfussy.
From its timber feet, right up to its gorgeously upholstered and comfortable back cushions, the looks and feels like the perfect sofa for any living space. The Cleo converts the clean-lined 3 Seater sofa into a Queen size (6 Inch) Latex Sofa Bed. So, whether you're admiring it from afar or cosied up on its soft thick cushions, we reckon you can't help but smile. In addition, this sumptuous queen sofa bed / sleeper is perfect for overnight guests and will retain its beauty and ensure a strong, durable foundation that's meant to last.
Made from the finest materials here in Australia, we've opted to use Dunlop Enduro Foam for superior support and comfort. Our Aussie Made fabric for the Cleo 3 Seater Sofa Bed add a delight, therefore, brings amazing comfort and space optimisation to any room. With all these great features,  you're in for a well-balanced room with character. If you're needing function but don't want to sacrifice style, think of this amazing piece of Sofa Bed.
Sydney Lounge Specialist can custom make right here in Sydney Australia any configuration and size of MODULAR LOUNGES, LEATHER LOUNGES, FABRIC SOFAS, CHAISE LOUNGES, SOFA BEDS, OTTOMANS, ACCENT CHAIRS, AUSTRALIAN MADE RECLINER SUITES, HOME THEATRE LOUNGES, DINING CHAIRS, DINING TABLES. Our professional consultants have been helping customers from the Wetherill Park, Michinbury, Hoxton Park and Prestons area for well over 10 years.
For more Sofa Bed choices, try out our Sofa Bed Range products.