Reimagine Your Home in Hampton-Style with Sydney Lounge Specialist
Origin of the Hampton Style Home
Synonymous with luxury and timeless elegance, the Hampton-style home evokes memories of sun-soaked summer vacations. Drawing its inspiration from the architectural aesthetics of coastal homes in Long Island's Hamptons region, this style has captured the hearts of homeowners worldwide.
Characteristics of the Hampton Style
A true Hampton-style home showcases natural materials and textured fabrics to perfection. Imagine a plush sofa adorned with multiple cushions, sophisticated upholstered armchairs, and classic furniture pieces crafted from white and naturally-toned timber. A harmonious blend of neutral shades with splashes of blue, brown, and natural grey completes the look, perfectly complementing the vivacious surroundings of a coastal dwelling.
Browse Sydney Lounge Specialist huge range of Hampton Style sofas
Starting with the Hollywood Deluxe, a minimalist light blue sofa, complemented by intricately designed cushions, offering sleek comfort, symbolizing understated Hampton luxury.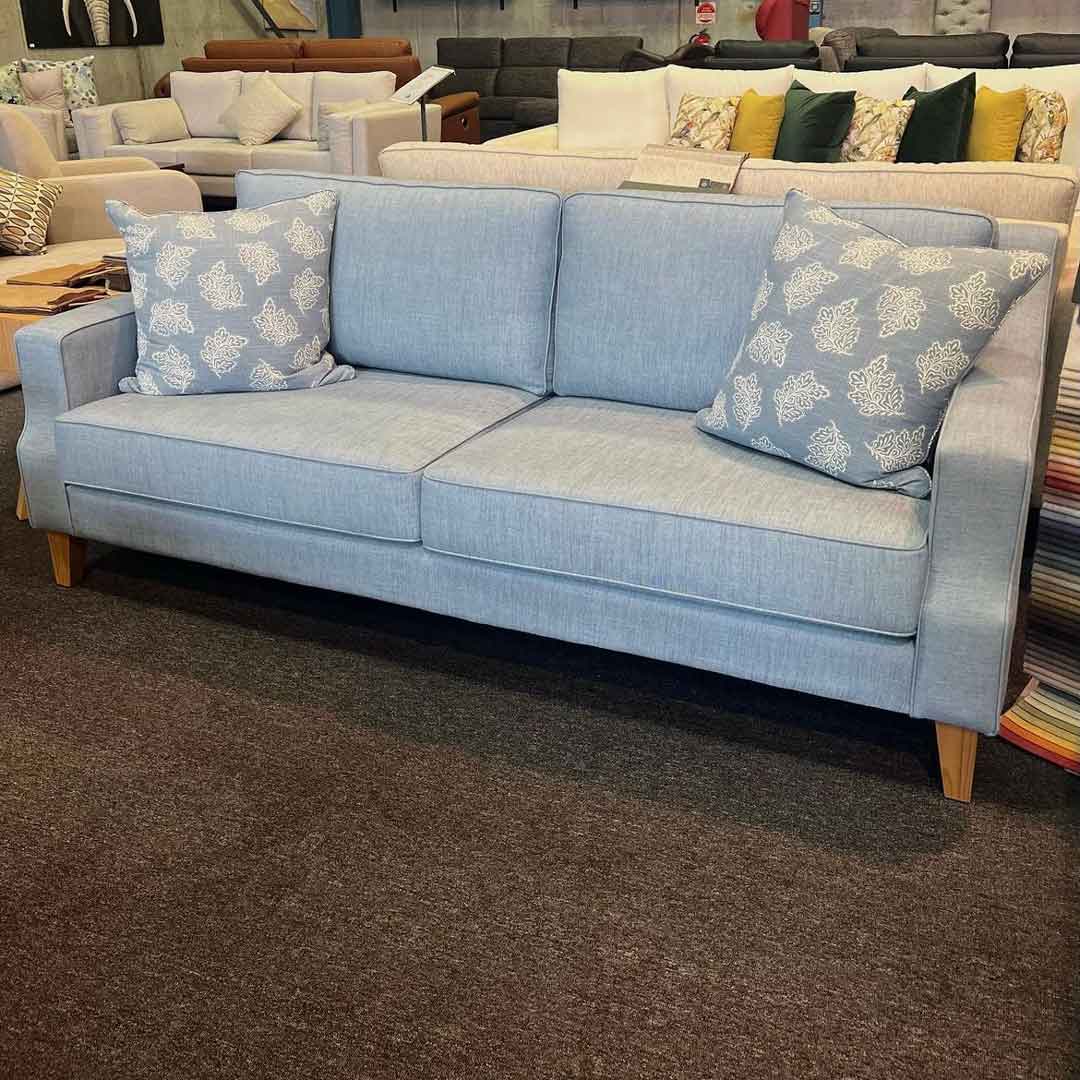 Choose your own Hampton-style fabric
Don't forget that all Sydney Lounge Specialist furniture is Australian made, and can be customised with your own choice of fabric or leather, and comes with a 10 year guarantee.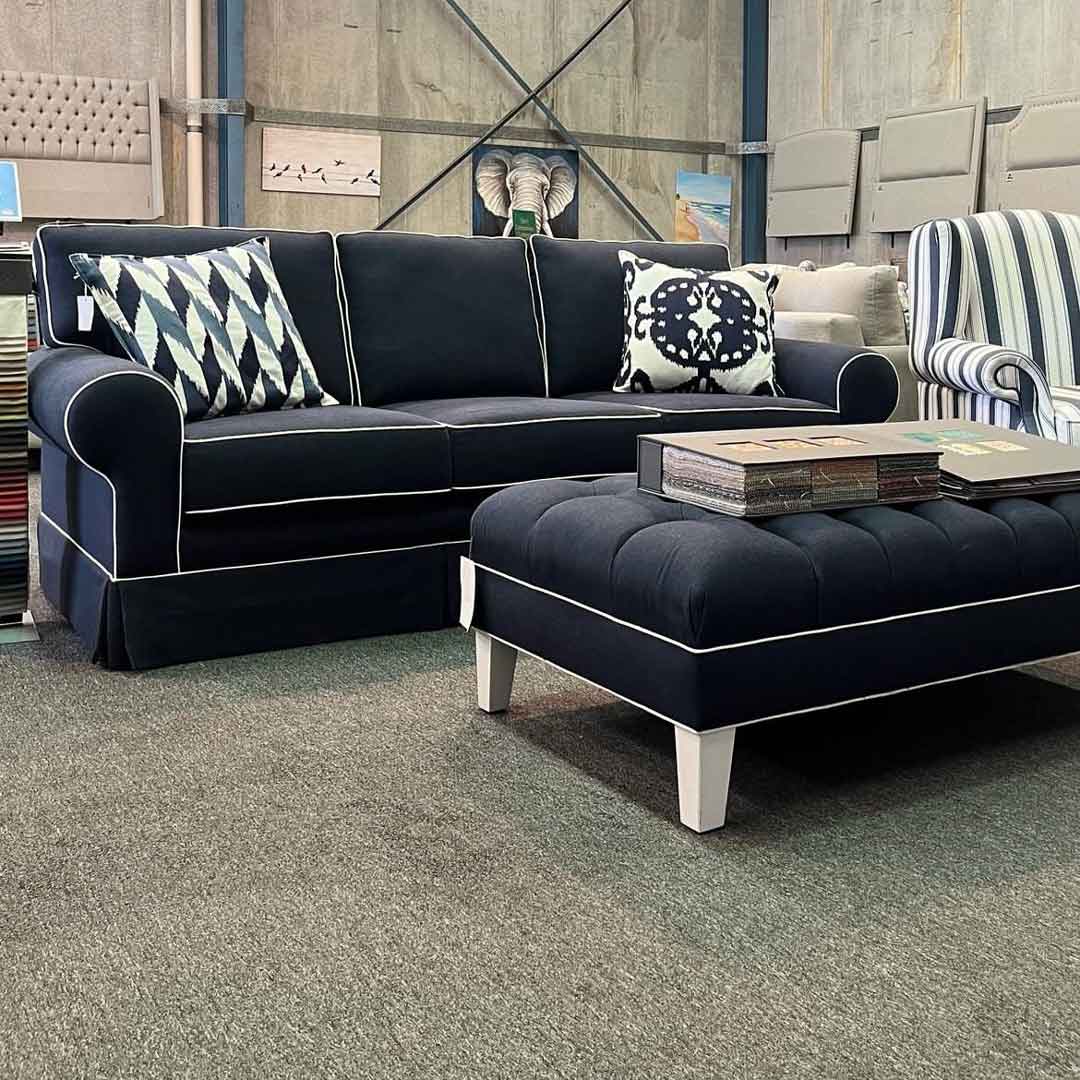 Trinity sofa, accompanied by a matching ottoman, is beautifully contrasted by black and white patterned throw pillows that make a bold statement, encapsulating a modern-meets-classic aesthetic.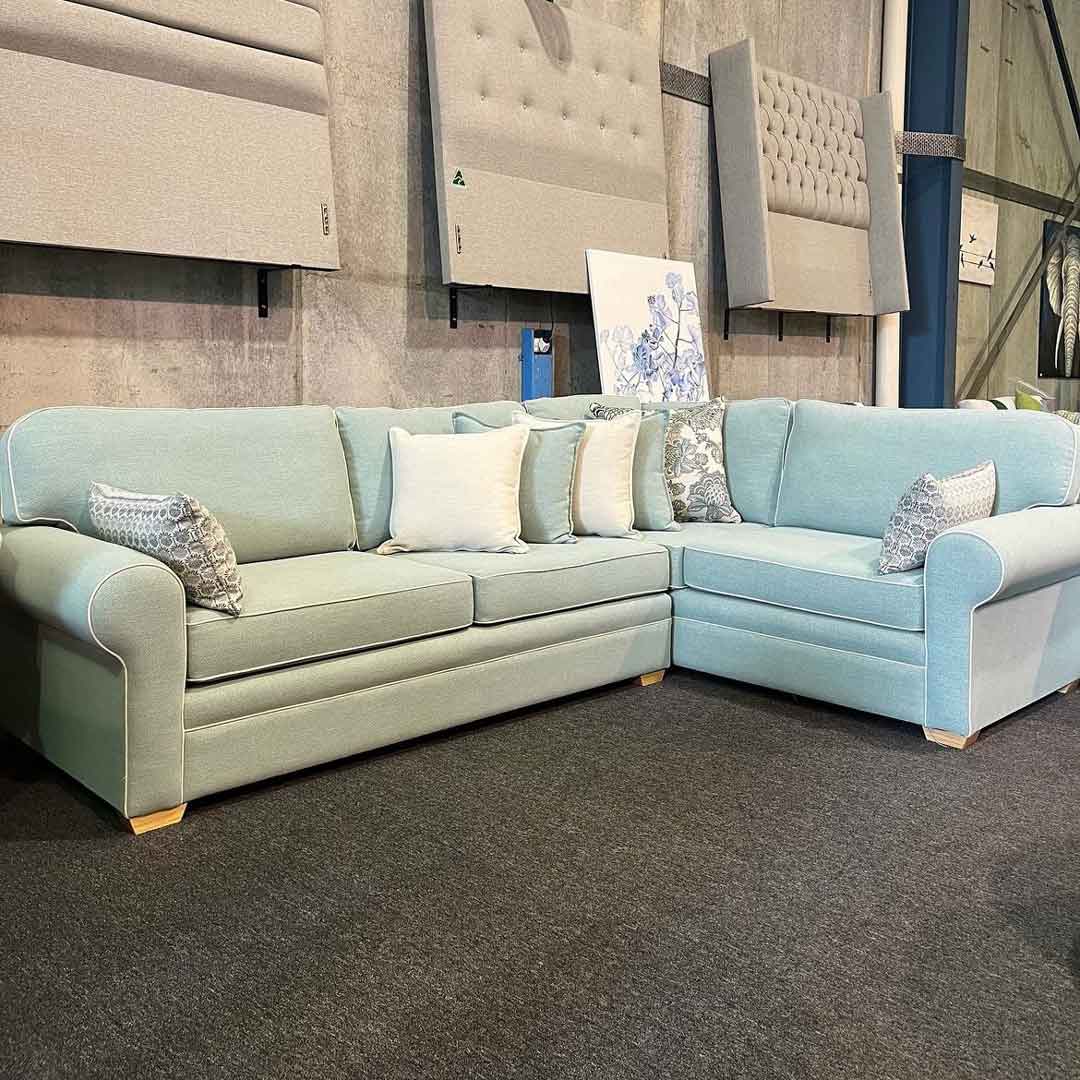 Ashville elegant Hamptons style arm sofa, a plush mint-green sofa adorned with soft white cushions and intricate throw pillows, encapsulating the essence of a tranquil coastal home.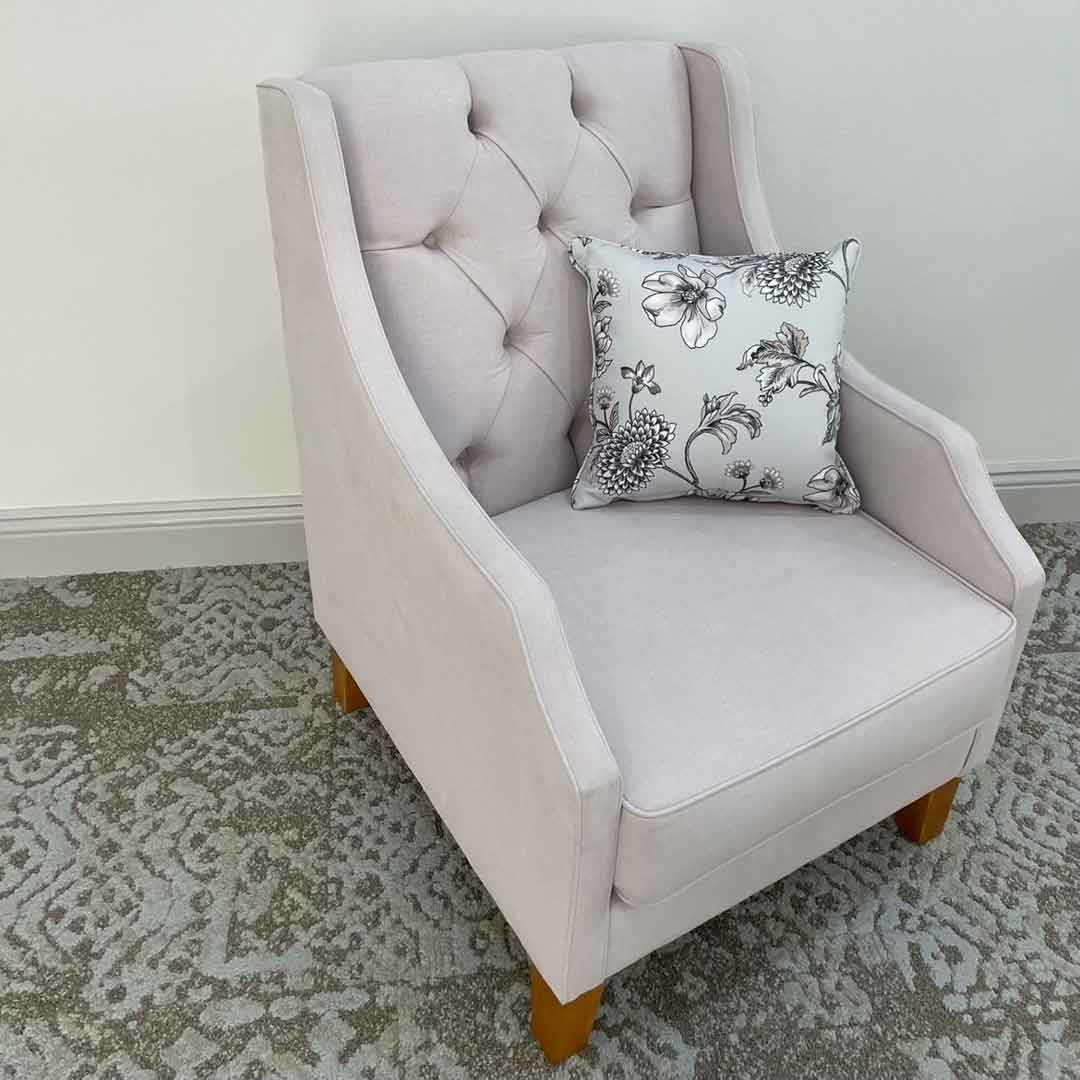 Paradise armchair, an opulent light mauve armchair stands as a statement of luxury. The chair's tufted backrest, combined with the delicately patterned throw pillow, exudes a regal charm, embodying the classic Hampton-style elegance.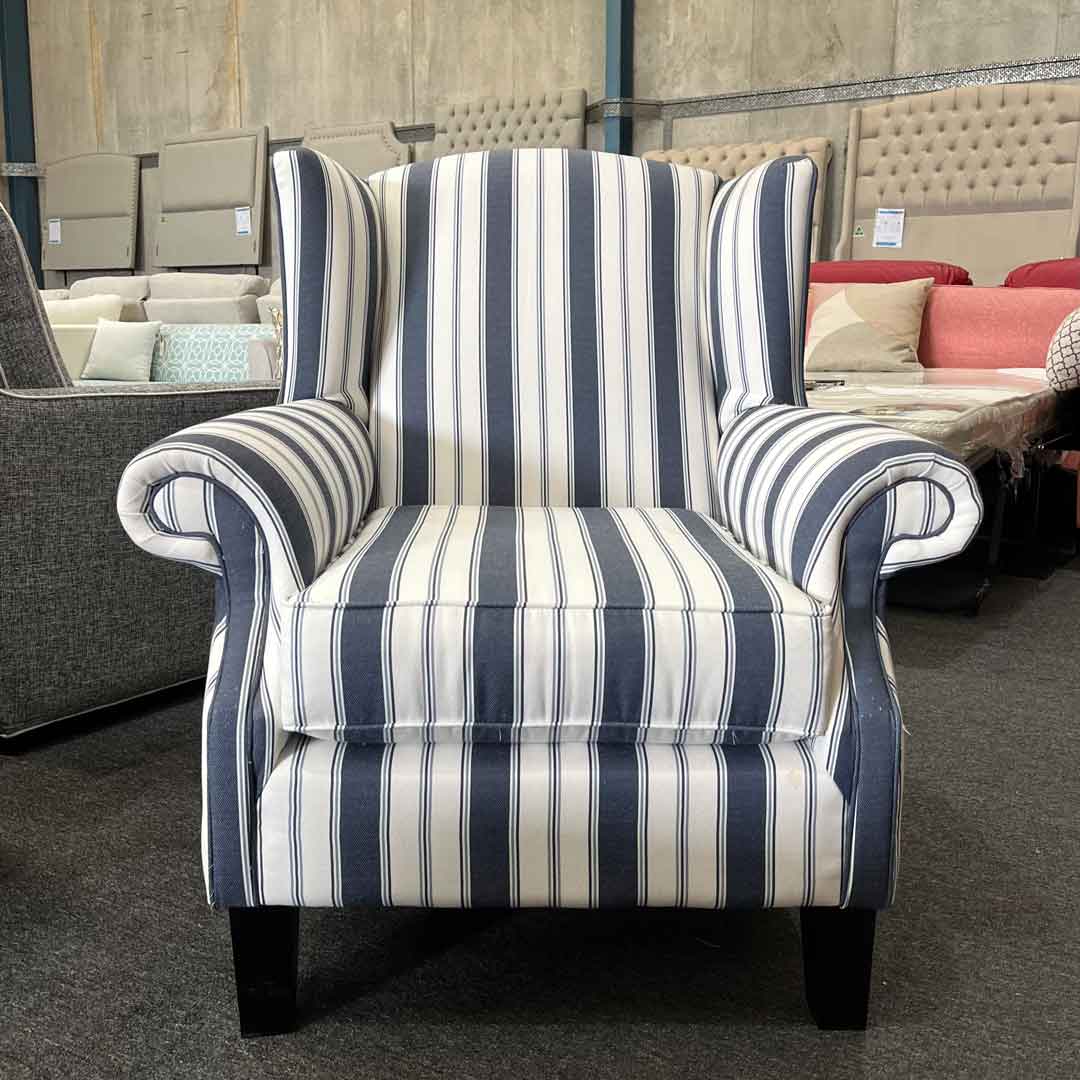 Queens Wingchair, a stately armchair, adorned with classic navy blue and white vertical stripes. The bold pattern of the fabric, coupled with the chair's curvaceous armrests and dark wooden legs, evokes a sense of coastal charm amidst a myriad of other furniture pieces.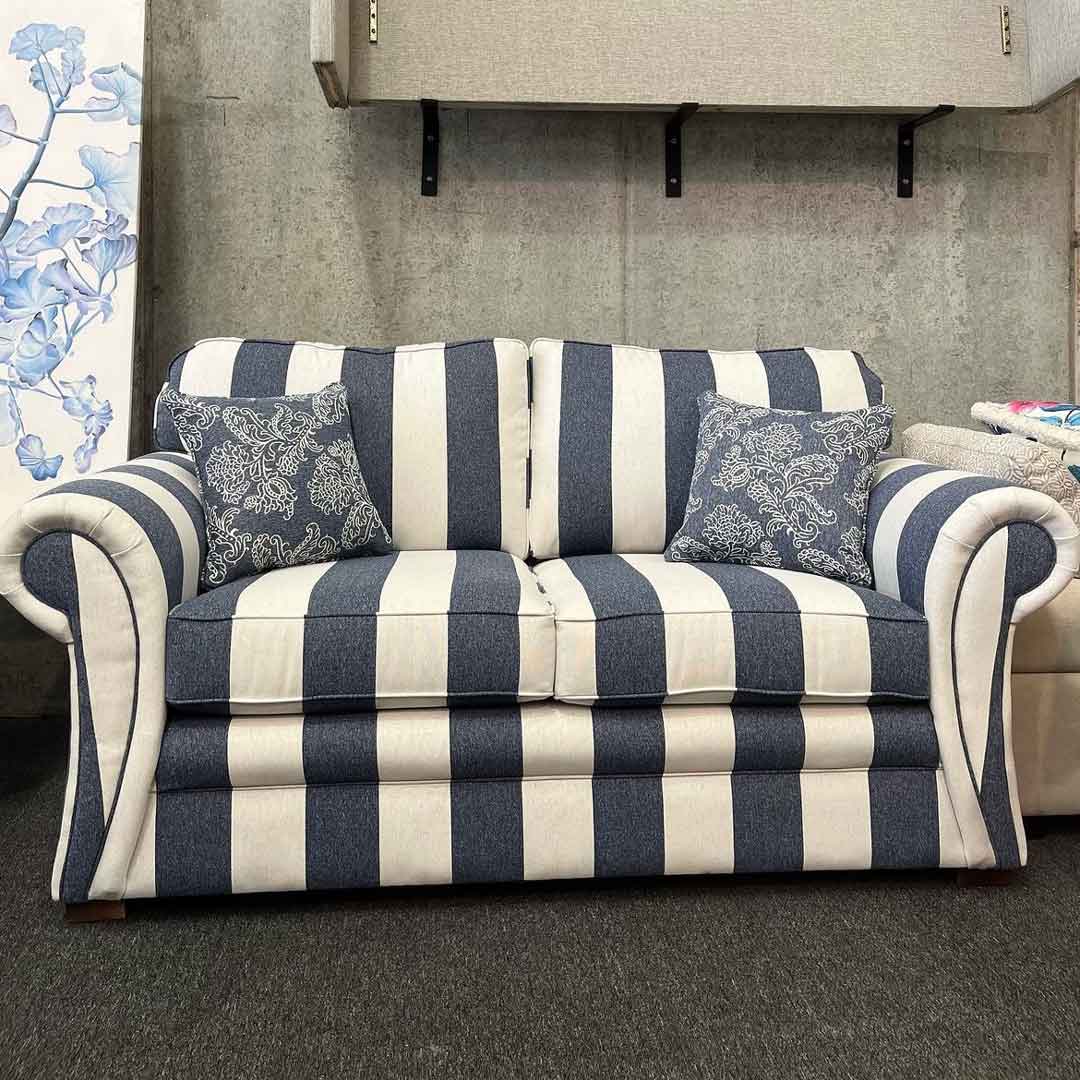 The Florence Contemporary lounge has a similar nautical allure: A striking white and navy-striped sofa with delicate paisley-patterned cushions and a classic rolled armrest design, epitomizing nautical sophistication.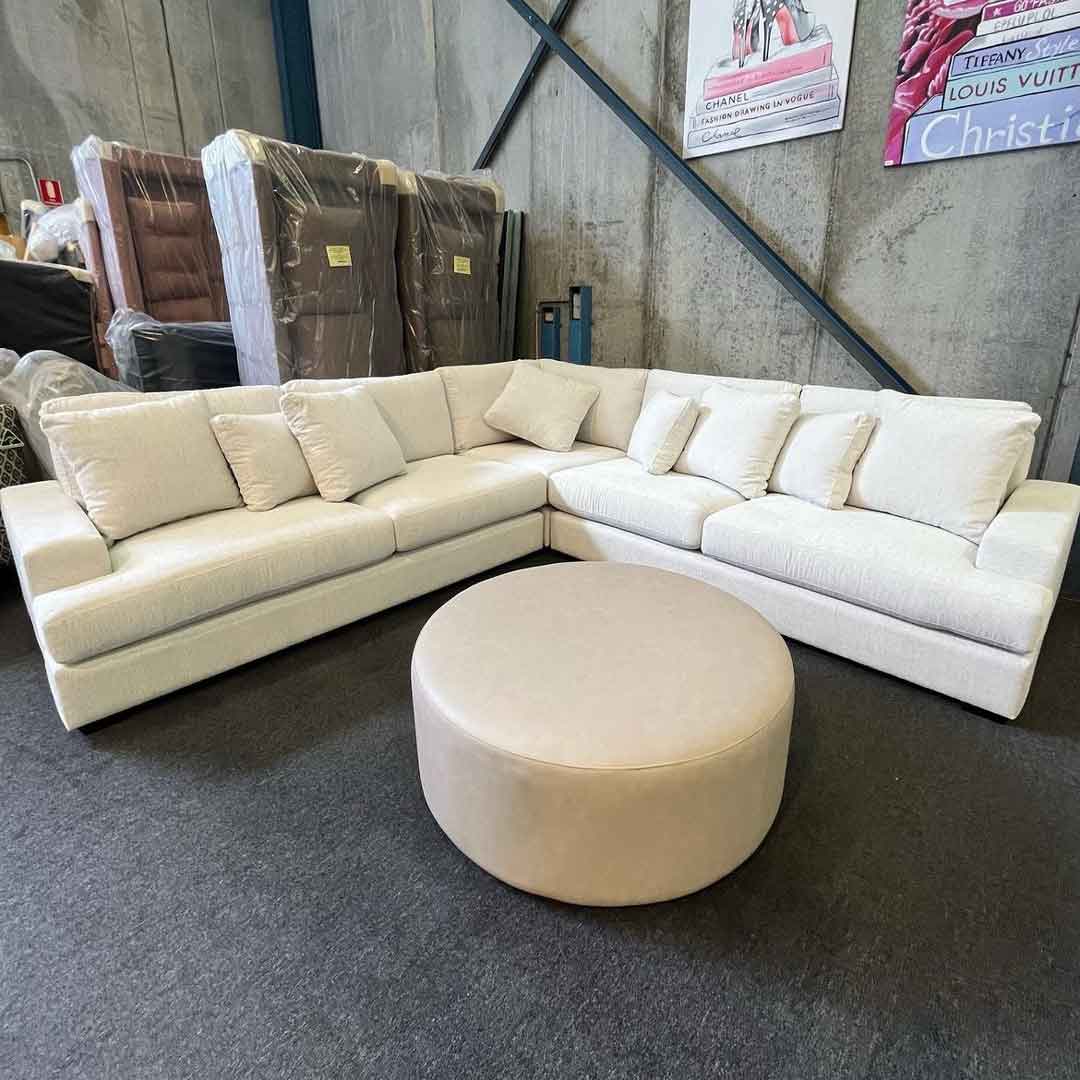 The Mia large modular sofa presents a luxurious ensemble: A lavish white sectional sofa invites relaxation. With its multiple plump cushions, this piece is the epitome of comfort. A matching rounded ottoman complements the ensemble.
Customise Your Dream Hampton-Style Lounge with Sydney Lounge Specialist
Dreaming of infusing your living space with the Hampton charm?
Look no further than Sydney Lounge Specialist. Our curated range of Hampton-style sofas and accent chairs promises the perfect amalgamation of opulence, functionality, and flair.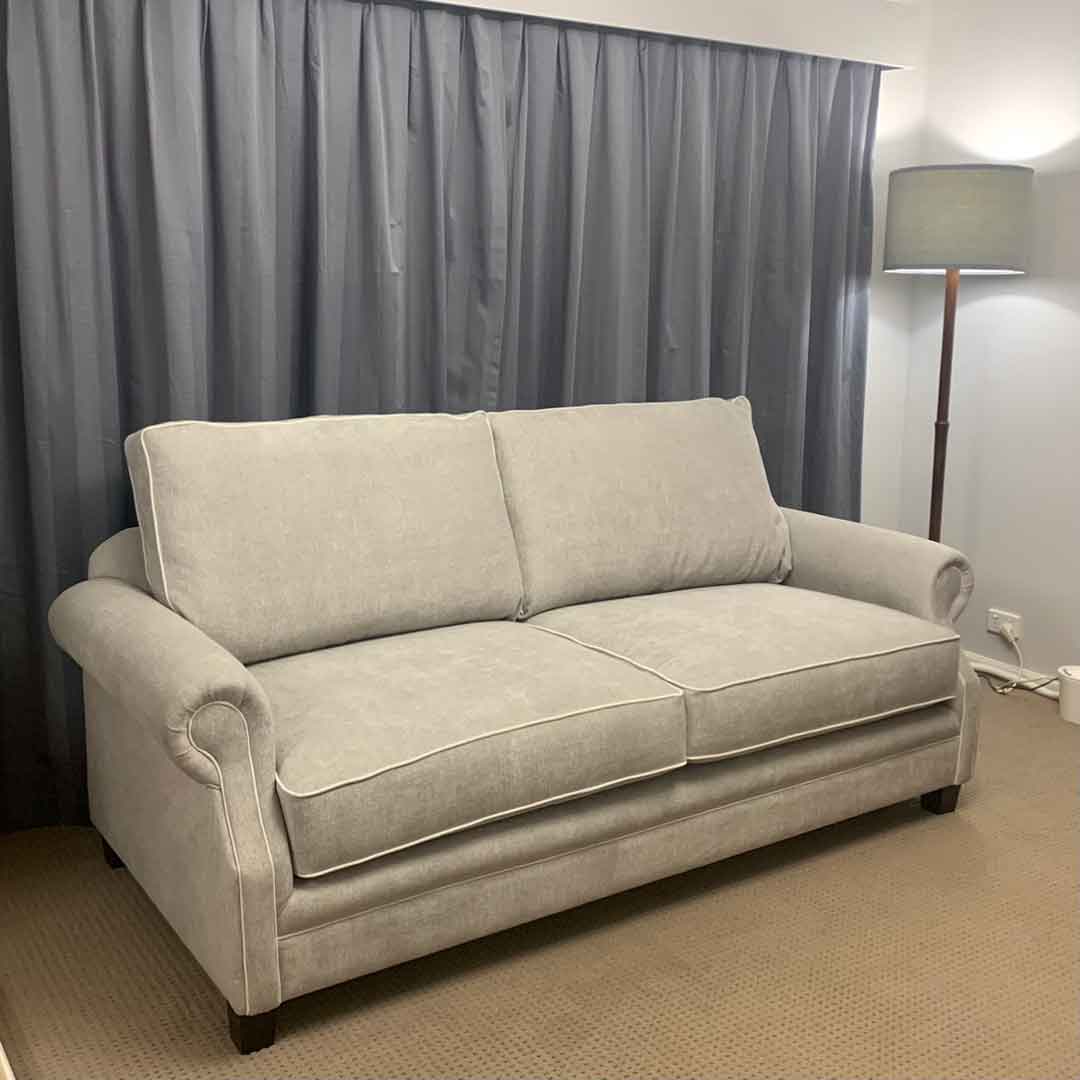 Lismore Plush Neutral Beige Sofa offers simplistic charm: A graceful light grey sofa graces a serene room setting. The sofa, accentuated by its curved armrests and pristine fabric, stands against floor-length grey drapes, exuding an air of understated sophistication.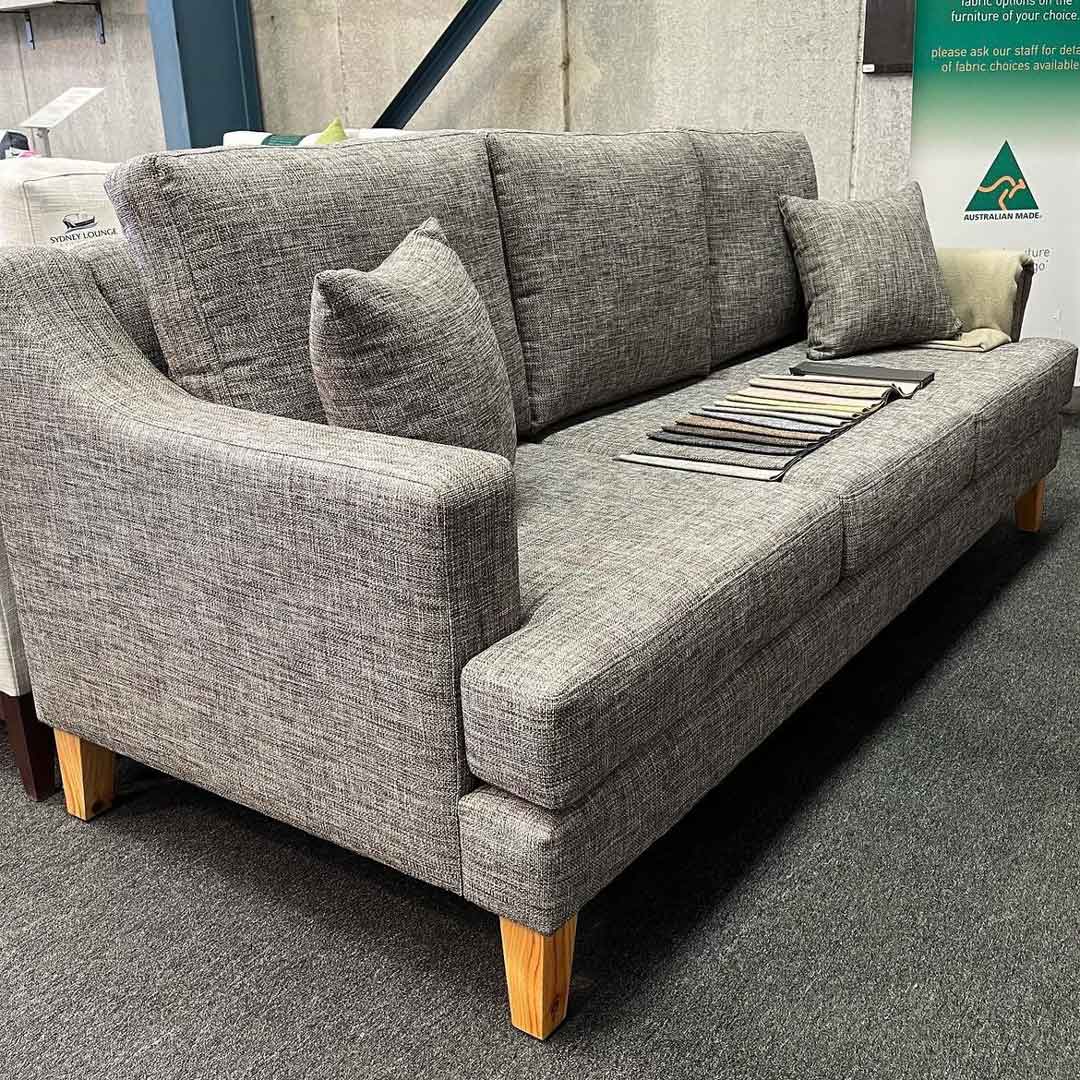 Lilyfield Modern Hamptons sofa, an elegantly designed grey sofa, enhanced by a textured fabric finish, sits majestically with soft cushions. The sofa's wooden legs attest to its quality craftsmanship.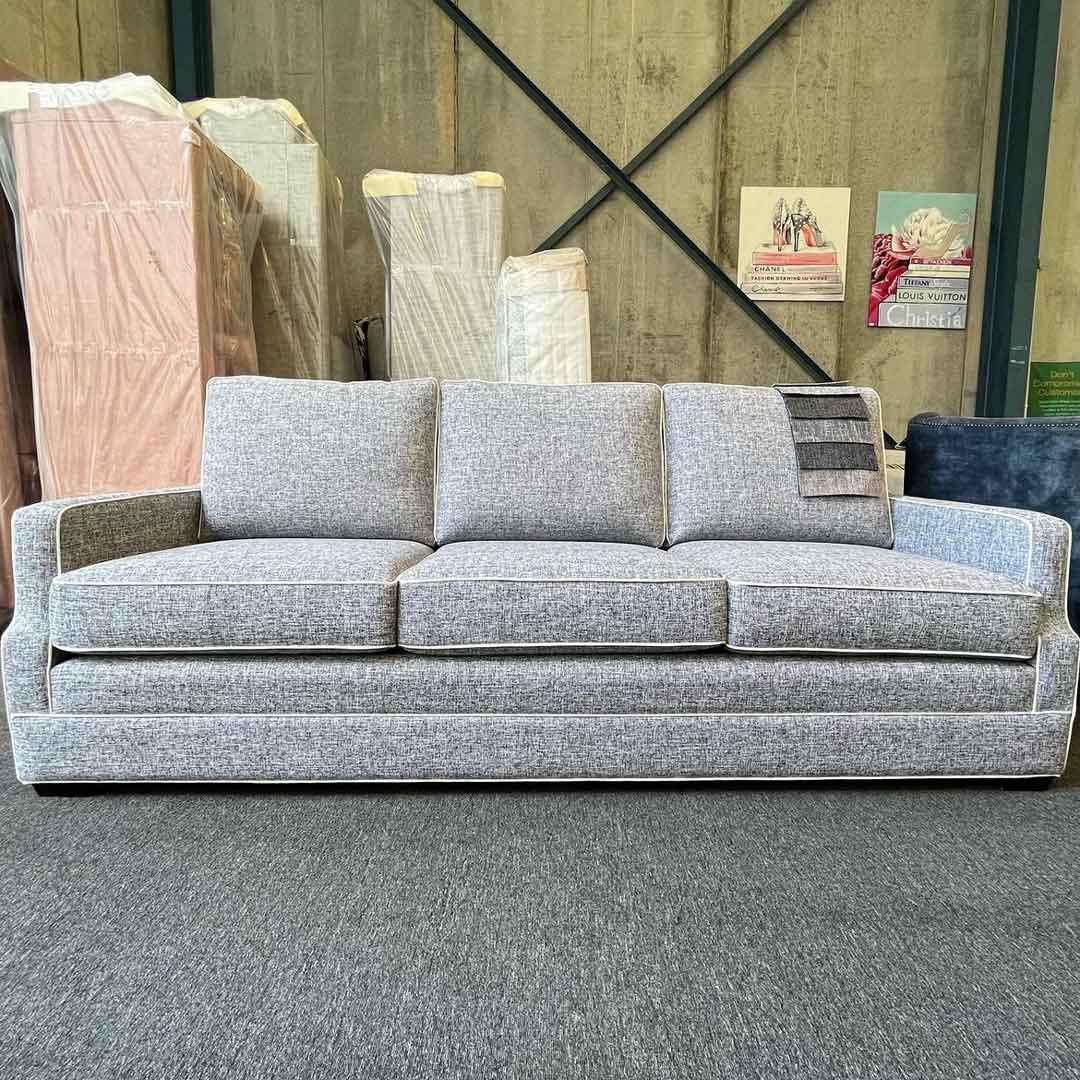 Ashley Grey Tweed Modern Sofa exudes modern elegance: A sophisticated grey textured sofa, offering modern comfort and unobtrusive minimal-style design, whispers contemporary Hampton charm.