A sofa bed will help you save space in your home
A sofa bed will help you save space in your home
From Australia's highest-rated furniture brand comes a sofa bed so comfortable you'll sleep like a baby.
Sofa beds are great for compact living spaces or homes that don't have a spare room for guests. They are also perfect for multi-purpose rooms (such as a study) that can be turned into a guest bedroom when needed.
Sydney Lounge Specialists have the best range of sofa beds, and best of all we custom make furniture to your size and specification with a huge range of fabric options and colours to match the decor in your home.
Sydney Lounge Specialists have been the number one direct seller and manufacturer of sofa beds since 2009. We have a heavy focus on fashion and lifestyle trends, and all our sofa beds are 100% Australian made.
If you are shopping for a sofa bed, here's some help about how to choose.
Size really matters when it comes to sleeper sofas. It sounds simple, but before you head out shopping, measure the available space to see how much room you have for the sofa and the space for when the sofa is fully pulled out in the bed position. Also measure how much space you have to bring the furniture into the home, this is easy to overlook and some people have ordered furniture only to find it won't fit through the front door! An easy trick is to use masking tape to outline where the sofa bed will be. This will help to you to see how your sofa bed will fit the space and if there will be enough room to move around it, as well as how other pieces of furniture fit in the room. When you're looking to buy a sofa bed, one size does not fit all, that's why we customize your own size to create your ideal fold-out sofa bed. Don't want the bed in the spare room to take up the whole space – buy a couch with a bed in it!
Sofas for everyday use require a durable fabric. Cotton and linen are popular, also synthetic microfiber, which can mimic most fabrics and is stain resistant. Cotton and linen can be treated for stain resistance, but even then they aren't as easy to clean, or as durable. Fabrics with patterns woven in usually wear better than printed patterns. Think about how often you are going to use your sofa bed, if you regularly have house guests needing a bed, then it's worthwhile investing in a good quality sofa bed. It's important to consider the mix of use between bed and couch. If the sofa bed you are buying is also going to be your everyday couch, it needs to be really comfortable as a couch. If you're looking at buying a sofa bed for the spare room where only gets used occasional as a couch, then focus on making sure it's a comfortable place to sleep and worry less about how comfortable it is to sit on. The quality of the upholstery for your sofa bed is essential, as well as the coluor, texture and pattern. It could be fabric, leather or vinyl, but either way the upholstery should be soft and pleasant to the touch.
Sydney Lounge Specialists offers hand crafted, high quality genuine leather or premium fabric sofa lounges, all backed by a 10 year warranty.
A warranty gives you peace of mind that you are covered, no matter what small sofa disasters life brings your way.
Whatever your family calls it — sofa, settee, divan, fold-out, hideaway bed couch — it's a major investment.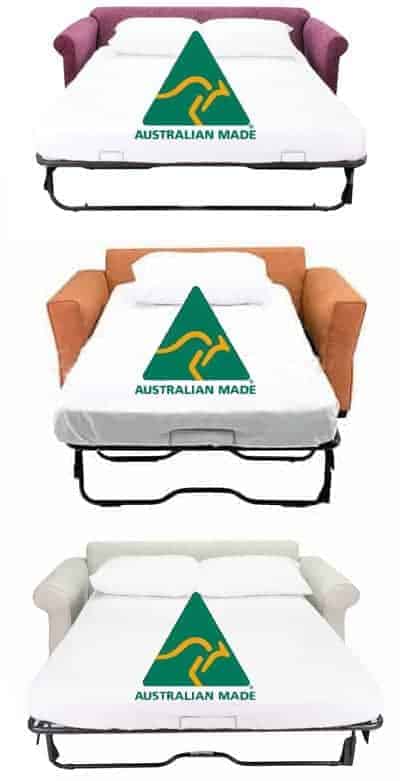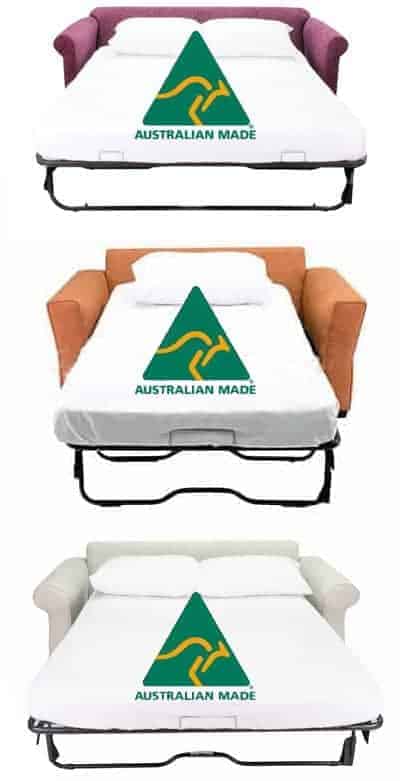 You have to remember that a convertible sofa is a seating space as well, so ensure whether it is comfortable to sit and relax on.
It's always a good idea to test a sofa bed before you buy it. Try opening and closing it to see how it feels. It should be easy to operate, and you shouldn't have to strain to open it. Open it and lie down to see how the mattress feels. Think over firmness or plushness of the mattress, it's probably best to choose a firm mattress if you have back problems.
The perfect sleeper sofa is a balance between sleeping and sitting comfort. Before buying, test all the factors mentioned.
From Australian-made sofa beds to plush velvet sofas, replica retro sofas to premium leather sofas, chaise lounges to sofa beds and flexible L-shaped sofas, we're always adding to our sofa collection with the latest designs that look fantastic – and feel even better.
Visit our showroom to see our stylish and comfy innerspring single, queen, king and double sofa bed range.